These specially-modified Hunters are the cost-effective alternative to employing military resources to conduct numerous combat training missions.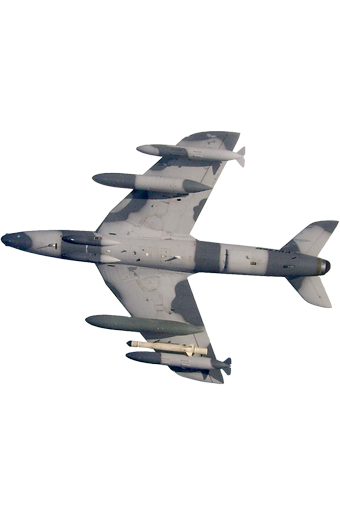 Reduce or avoid the operation of military aircraft
Receive equal or better training value
Keep military manpower working on their primary responsibilities and training needs
OVER 8500 HOURS OF HUNTER
FLYING SINCE 2002
Superior speed, endurance, flexibility and tactical realism
Electronic warfare, attack simulation and target towing
Close air support training for ground forces
Effective replication of desired tactics and profiles
Experienced NATO fighter pilots in the cockpits and briefings
We operate a unique fleet of special Hawker Hunters, realistically conducting training once accomplished internally with expensive military aircraft and crews that can often be of limited training value to the pilots. We also effectively replicate many adversary roles for today's fighters, such as radar interception targets and attack aircraft, eliminating the use of military resources, permitting much more efficient employment of their own assets.
Our Hunters are providing vital training right now, flying high-speed attacks and missile simulations, towing targets and providing realistic adversaries for ships and aircraft, while operating various on-board electronic warfare training equipment. Forward Air Controllers can train continuously for more than two hours per sortie, with aircraft dedicated exclusively to their needs.
The highly-experienced team provides a fully deployable and self-sufficient force of cost- effective, surprisingly realistic and very high-performance combat training aircraft configured for extra-long endurance. Our Hunters are flown by specialized former military NATO fighter pilots able to safely operate in military training exercises of any size who can execute any requested tactics
We have successfully participated in numerous allied combat training exercises for army, navy and air forces all across Canada and the United States, and in European, Far East and Pacific theaters, providing valuable training suited to the needs and wishes of the customer.
---